Project management tools are specifically designed instruments that assist in the planning and organizing of each process of the project, including budget management, schedule setup, task tracking, issue management, and many more.
While the term "project management" did not exist till 1954, the early basis for project management software has been in development as early as the end of the 19th century. This led to the appearance of Harmonograms and Gantt charts, which were used in the construction of the Hoover Dam.
The first video games were simple enough to be created by a single individual without any dedicated game dev project management tools. However, as the process became more complex and development teams became more extensive, project management tools for video game development became a requirement. Without them, a development team will inevitably miss out on set up deadlines, which would lead to one of the most discussed problems of modern game development – crunch time.
What are the Benefits of Project Management Tools for Game Development?
Best video game project management software enhances the studio efforts and simplifies the development in multiple ways. Here are some of the major aspects the development team can benefit from with the help of top dev project management tools.
Idea sharing – idea generation is an important practice that usually takes place at the early stages of game development. Some ideas presented during the brainstorming session are not helpful, while others may become concepts that define the end product.
Project management software for video game development should set up a convenient communication system that will encourage cooperation between the team members. It should also make it easy to share files and documents and track and update the most current version of the product;
Progress tracking – keeping a hand on the pulse of your project is necessary to determine whether the everyday process goes according to the long-term plan. If a specific task takes longer than expected, you can provide additional resources or adjust the long-term expectations accordingly.
Best game project management tools usually provide detailed progress tracking capabilities. You'll be able to see how much time each step took, which issues were confronted and resolved, and which problems remain. They will also make it easier for you to evaluate the performance of each team member;
Better issue identification – no game has been ever developed without issues on the first try. What's more – if you think there are no issues, they are probably just well-hidden and will be discovered after the release
Project management tools for game developers have functionality specifically for tracking all the issues that have come up during the development. Anyone should be able to add items to the list of issues, and each of them should have a detailed description. At the end of the day, it will help you to release a polished final product with most major problems solved;
Improved performance – putting everything listed above together, you can see that project management tools help create an organized game development process with a fluid and efficient workflow. As a result, you might discover that your team performs much better than without said tools. The reason is that at any point in time, every person knows what they need to do, and any issues that might occur in the process are immediately acknowledged and sooner or later will be resolved.
10 Best Game Dev Project Management Tools
Trello
Trello is one of the most well-known project management tools out there. It is a relatively simple system, where you can create cards, boards, and lists for various tasks. Its visually simple interface makes it easy to adapt while remaining incredibly helpful for organizing any group activity.
Unfortunately, if a game you're working on is complex enough, the number of cards you'd need to manage might become overwhelming, with a screen filled to the brim with them. The system operates on a freemium model, with enhanced control and security provided for an additional price. So, if you're working on a small indie project and don't need your tool to have many features, Trello should be your first choice.
Asana
Next on the list of game project management tools is Asana – a popular tool in the game development community. While it is as lightweight and intuitive as Trello, it packs many more features. For example, you can visualize the tasks in either a calendar or project view, have detailed statistics on each task, and many more.

You can use this example of a game dev project management tool for free if your team is smaller than 15 users – the premium version costs $9.99AUD per member a month. The system has some disadvantages as well – you can only assign one person for a task, and there is no editing the comments once you post them. Yet, it is still a great tool for medium-sized teams.
Google Drive
You may not have thought of Google Drive as a project management tool, but it really is invaluable when it comes to sharing ideas, documentation, or any other file sharing. It can also be used for leaving feedback and even real-time collaborations.
However, someone should control this tool, as, if left unchecked, it can turn into a disorganized mess of files and folders. There is also no additional security or two-step authentication, so be careful who you send the link to your drive to. This is also one of the free project management tools for game developers if 15 GB of space is enough for your goals.
JIRA
JIRA is a much more complex and powerful project management system. With a lot of elements and features included, and a whole marketplace of plugins supporting it, you can tailor it precisely for the needs of your game development project.
One of the major things that set it apart is a powerful quality assurance system. Using it, you can accept the feedback directly from your users, without any need to transcribe their emails into the system. This is perfect for games that go through extensive alpha and beta testing stages or massively multiplayer online games. JIRA is free for teams up to 10 people and up to $140 a month for teams from 11 up to 20,000 people.
Basecamp
Basecamp is an all-in-one suite that offers an advanced project management toolkit for everyone in need. The features it offers include a task management solution, 500 GB of storage, checklists, calendar project view, an instant chat messaging service, and more.
No matter the size of your team, you can get Basecamp for your game development project for $99 a month. Besides all the pros, the system has a major disadvantage in that it is neither flexible nor customizable. If you needed other tools to manage your project, they would be hard to integrate into this infrastructure.
HackNPlan
HackNPlan is a project management software tool made specifically with game development in mind. You can mark each user with a traditional role in the game development team, track the progress for each task, update the integrated game design documentation, combine the users into teams explicitly made for a selected task, etc.
There is not much to say about the tool disadvantages, except that the interface can sometimes be laggy due to poor connection with the server. HackNPlan is free, but premium features are locked behind a paywall. Still, most of the features are available right away, including an advanced reporting system.
Wrike
Wrike is another easy-to-learn and easy-to-use solution that will help you in managing your game development. Its main focal points are task and time tracking features. However, there are some additional features as well, like collaboration tools and a reporting system.
While Wrike is meant to be implemented and learned in the shortest time possible, there is a certain depth to this system. For example, it has great potential when it comes to integrating external tools into it. So, if you want to customize the system with a specific feature you need for your project, all you need to do is find a third-party solution that provides it.
Assembla
Assembla might seem similar to Trello due to its interface, but it is a much more complex solution. However, it is not overly complex, like some other tools on this list. Many game developers often describe Assembla as a middle ground between highly customizable complex tools and overly simplistic ones.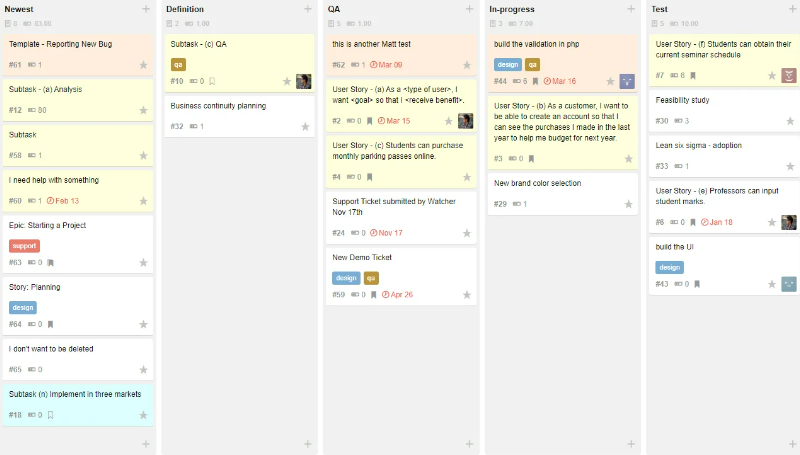 Assembla is made specifically with software development in mind, as it provides great version control capabilities with an automated backup system. It also focuses a lot on the security of your product. All in all, it's a great solution you can easily integrate with other project management tools and use to your advantage. The price for the system starts at $10 for every user per month.
Codecks
Codecks is another solution made specifically for game development. Even its visual design is crafted to be reminiscent of popular trading card games. In addition to features similar to Trello, Codecks provides time and task tracking capabilities, design documentation creation, and many more.
Codecks is designed to be visually intuitive, and it greatly manages this task. It is also made with the gaming community in mind, so it provides an effective way to compose visual development progress reports that support your communication with your audience.
MeisterTask
As you can guess from its name, MeisterTask is a project management tool that mostly focuses on task management. What makes it especially great are the capabilities for automatization of repeating tasks.
In addition, there are other features, like time tracking, great review tools, and increased security. Like Codecks, it is often praised for being intuitive and easy to learn. And it is compatible with multiple other popular project management tools you might need in your development process.
Consider Pingle Studio Your Trusted Partner
Pingle Studio has years of experience in game development and co-development. All this period, project management tools help us organize, coordinate, and improve the efficiency of our efforts. The tools we usually use are:
Trello;
JIRA;
Asana;
Google Drive.
Among the projects we were able to complete with their help are the porting of a critically acclaimed visual novel Life is Strange and the indie horror darling Hello Neighbor, co-development and optimization of a beautiful adventure game Lost Ember, the brutal survival thriller Pathologic 2, and many more.
If you're thinking about outsourcing your development efforts, consider referring to Pingle Studio, as our invaluable experience in the industry can help you achieve your goals effectively and fast.
Final Thoughts
Choosing the right project management tools for your game development project is an important task, as they can greatly assist you in your efforts to organize and control the process. You should pick your instruments based on the size and complexity of your project. If you're having trouble choosing the right project management software, contact us, and we'll gladly help you make the right choice.