The land of Canada should definitely be mentioned in the conversation about the world's game development superpowers. The revenue in the Video Games market in Canada is projected to reach US$5.77bn in 2023.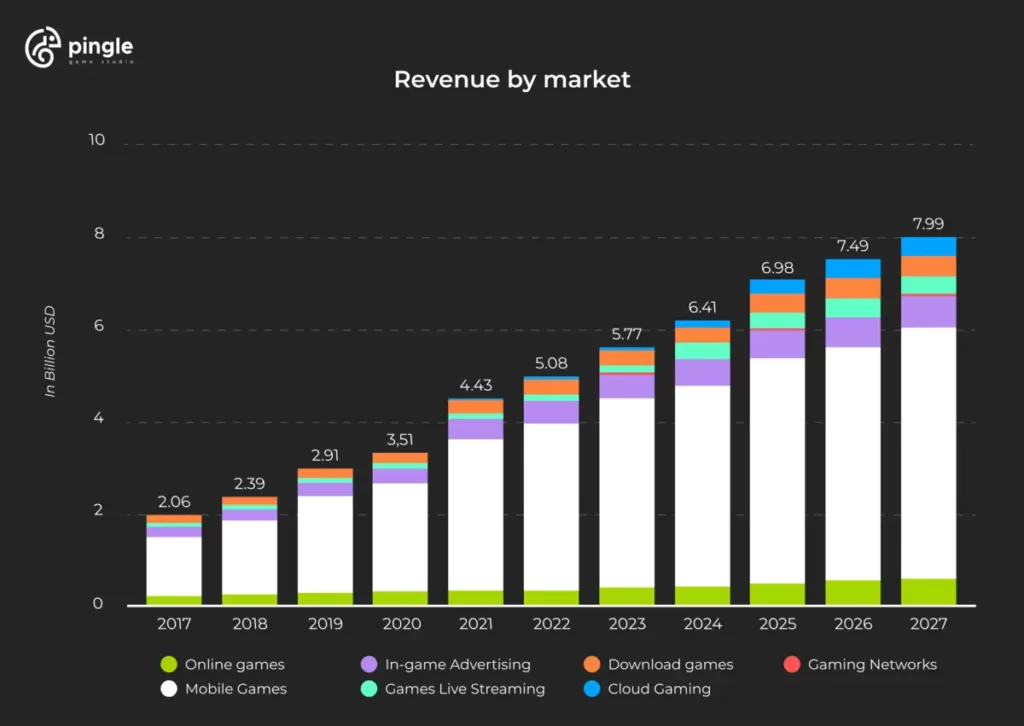 Apart from that, some of the most iconic titles in gaming history, like Warhammer 40000, Prince of Persia, and Mass Effect, were born in this particular cold region. In this article, we will provide general info about the most significant Canadian video game companies and their most notable games.
Top video game companies in Canada
Game development companies are significant players in Canada's economy and their influence on the world. Let's take a look at some of the best game studios in Canada.
Pingle Studio
Operating as a global game development partner, Pingle Studio is a notable player on the world's game development stage. The company provides complete coverage of game development services, which includes full-cycle development, co-development, porting, QA services, art services, and TRC certification assistance. The company focuses on working with Unreal Engine and Unity but has decent experience with other engines, including custom ones.
Pingle Studio has multiple projects with Canadian developers. The biggest is Insurgency: Sandstorm, a realistic online FPS shooter set in the Near East warfare atmosphere. The original developer is the Canadian video game company New World Interactive. Pingle Studio actively participates in the development, art and animation production (including marketing art), PS and Xbox porting, technical art, console certification, QA, game design, and level design.
In order to establish a better connection with game studios in Canada, the company opened a representative office in Ottawa, Canada in June 2022. Despite the war in Ukraine, Pingle Studio never had plans to relocate. Ottawa facility is concentrated on business development and closer communication with partners.
Radical Entertainment
Radical Entertainment, a renowned game development studio, is based in Vancouver, Canada. With a dedicated team of 145 employees, they have established themselves as a prominent player in the industry. Radical Entertainment is widely recognized for their impressive portfolio of games. They have delivered notable titles such as The Simpsons Hit & Run, Crash Tag Team Racing, The Incredible Hulk: Ultimate Destruction, Scarface: The World is Yours, and the Prototype dilogy. These games have captivated players with their unique gameplay mechanics, engaging narratives, and innovative design.
Since its inception, Radical Entertainment has been committed to pushing boundaries and creating immersive experiences. In 2008, the studio became a subsidiary of Activision Blizzard, a leading global interactive entertainment company. This acquisition has further strengthened Radical Entertainment's resources and positioned them for continued success in the ever-evolving gaming industry.
HB Studios
HB Studios, a prominent game development studio based in Lunenburg, Canada, boasts a talented team of 115+ employees (according to LinkedIn). With a strong reputation in the industry, HB Studios has carved a niche for itself by delivering exceptional sports titles. They have been involved in developing games for renowned franchises such as NBA, Madden, and Golf.
In 2017, they were honored as one of Canada's Top 100 small and medium Employers, highlighting their commitment to fostering a positive work environment. Additionally, HB Studios has regularly appeared on the prestigious Develop 100 list, which recognizes the "World's Best Game Studios," a testament to their consistent quality and creativity.
Behaviour Interactive
Behaviour Interactive, a leading Canadian game development company, has made a significant impact on the gaming landscape since its establishment in 1992. With a talented workforce of 275 people (according to Crunchbase), the company has offices in Quebec and Montreal, solidifying its presence in the vibrant Canadian gaming industry.
Behaviour Interactive gained widespread recognition in 2016 with the release of Dead by Daylight, a thrilling multiplayer survival action horror game published by Sweden's Starbreeze. The game quickly gained popularity, selling over 1 million copies within its first two months and amassing a massive player base of more than 50 million worldwide.
In addition to Dead by Daylight, Behaviour Interactive has worked on a diverse range of titles. They have contributed to renowned games such as Meet Your Maker, Game of Thrones: Beyond the Wall, and collaborated on titles like Rainbow Six Extraction, Far Cry 5, GRID Legends, HALO Master Chief Collection, Call of Duty Vanguard, Dirt 5, Tony Hawk's Pro Skater 1+2, Borderlands: The Pre-Sequel, and Days Gone.
With their impressive portfolio and continued dedication to creating immersive gaming experiences, Behaviour Interactive continues to be a major player in the industry, capturing the attention of players worldwide and solidifying their position as a top game development studio in Canada.
Bioware
Bioware, a renowned game development studio, has left an indelible mark on the gaming industry since its establishment in 1995. With offices in Edmonton, Canada, and Austin, Texas, USA, Bioware has fostered a global presence and a reputation for creating memorable gaming experiences.
With a dedicated workforce of 320 people, Bioware has delivered several critically acclaimed and beloved titles. They are known for their exceptional role-playing games, including the Star Wars: The Old Republic, Dragon Age franchise, and Mass Effect franchise. These immersive worlds have captivated players with their rich narratives, complex characters, and impactful choices.
Bioware's impressive lineup of games also includes titles like Anthem, Star Wars: Knights of the Old Republic, Baldur's Gate franchise, and Neverwinter Nights. These games have further showcased the studio's commitment to creating immersive and captivating experiences.
Next Level Games
Based in Vancouver since 2002, Next Level Games has garnered attention and acclaim for its exceptional titles. The company is proudly owned by Nintendo, a testament to its expertise and creative talent.
With a dedicated team of 130+ employees, Next Level Games has created memorable gaming experiences across various platforms. They are well-known for their work on titles such as Mario Strikers: Battle League, Luigi's Mansion 3, Metroid Prime: Federation Force, and Spider-Man: Friend or Foe.
Next Level Games' partnership with Nintendo has allowed them to leverage beloved franchises and deliver exceptional experiences to players worldwide. Their commitment to quality and attention to detail has solidified their position as a reputable game development studio.
Relic entertainment
Relic Entertainment, a prominent game development studio, has been making waves in the industry since its establishment in 1997. With their head office located in Vancouver, Canada, Relic Entertainment has become renowned for their exceptional games and innovative approaches to gameplay.
With a dedicated team of 417 employees, Relic Entertainment has crafted several iconic franchises. They are widely recognized for their work on the critically acclaimed Homeworld franchise, the Warhammer 40,000: Dawn of War franchise, and the Company of Heroes franchise.
Relic Entertainment's expertise extends beyond these franchises, as they are also working on highly anticipated titles such as Age of Empires IV.
Ubisoft Montreal
Ubisoft Montreal, based in Montreal, Canada, stands as a titan in the game development industry. Established in 1997, the studio has grown exponentially and now boasts a workforce of over 4,000 employees, making it one of the largest game development studios in the world.
Ubisoft Montreal has left an indelible mark on the gaming landscape through their creation of iconic and beloved franchises. They have been instrumental in the development of blockbuster titles such as Tom Clancy's Splinter Cell, Prince of Persia, Assassin's Creed, and Far Cry. These games have captured the hearts of players worldwide with their immersive worlds, engaging narratives, and groundbreaking gameplay mechanics.
The Bottom Line
Canadian game development companies have undoubtedly made a significant impact on the global gaming industry. With the studios mentioned above, Canada has established itself as a powerhouse in game development.
With a collective commitment to quality, creativity, and innovation, Canadian game developers continue to shape the future of gaming. Their dedication to delivering memorable experiences has garnered critical acclaim and a devoted fan base. As Canada's game development industry thrives, it serves as an inspiration for aspiring developers and a testament to the country's rich talent pool and vibrant creative ecosystem. The global gaming industry eagerly awaits the next wave of innovation from these exceptional Canadian companies.