The number of gamers worldwide is actively growing. Some statistics show that gamers worldwide are as big as 3 billion people. But this massive society of people is divided by dozens of factors, and the most significant factor is the gaming platform of their choice. Despite the trend for cross-platform game development, the audiences of various gaming devices are rare. In this article, we'll look at the best gaming platforms in 2023, see what unites and differs from them, and share some of our expertise on how to succeed while making games for these platforms.
Overview of the most popular gaming platforms in 2023
Let's take a closer look at the list of the relevant gaming platforms for 2023.
PC
Despite the growing number of various gaming consoles, the so-called master race platform doesn't tend to drop in popularity. PCs are becoming a little more affordable since the backslash of the graphic card prices due to less interest in mining cryptocurrency. And even though the semiconductor shortage is still pretty severe, the prices are not as crazy as a couple of years ago.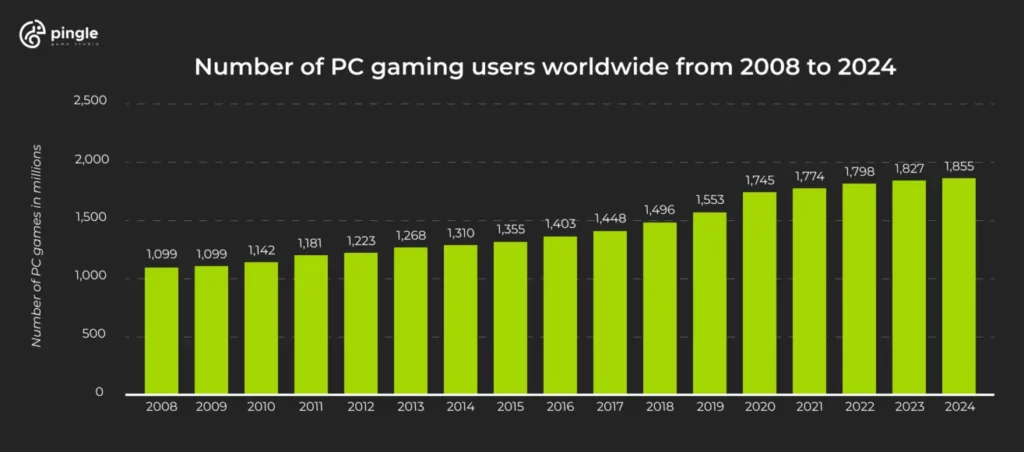 According to Statista, approximately 1.82 billion people will use PCs as their gaming platform in 2023. But is PC the best gaming platform in 2023? Let's take a look at the pros and cons.
Pros:
Versatility. A PC is a tool of various use. Its ability goes far more than just gaming. Most of us use PCs for work, so having a powerful PC also increases productivity. PCs are compatible with the majority of gamepads. You can also set a PC hardware and program environment according to your gaming and/or professional preferences.
Price for games. For most regions, PC games cost less than console games. Just compare the price for some titles on Steam, PSStore, and Microsoft Store – Steam price is likely to be at least 50% lower. Also, unlike console stores, there are no monopolies for PC games stores. Also, a recent trend for game subscriptions has already reached PC (PC Game Pass by Microsoft), which makes PC games even more available.
Productivity. A high-end PC will outperform even the latest edition of the current-generation consoles. The hardware for PCs can be updated much more often than the new generations of consoles released. So you can keep your PC relevant without being dependent on a utility version of your device, which isn't available for console players.
Cons:
Hardware price. PC hardware is still the most expensive compared to all other gaming devices. The top-tier graphics card alone costs more than the whole current-gen gaming console.
No "out of the box" solutions. In the case of PC gaming, you can hardly ever get the gaming solution out of the box. With the consoles, all you have to do to start playing is plug the console from the box, and you're good to go. PCs almost always need some adjustments in terms of hardware and software.
Optimization issues. Optimizing the PC game is much more complex than console games due to the variety of available PC configurations. That causes some developers to concentrate on consoles while developing games, which sometimes means a worse gaming experience for PC gamers.
The average price of a gaming PC in 2023 ranges between $700 and $4000+ and depends on a great variety of factors, from the desired performance abilities of your PC to the periphery devices like mouse, keyboard, speakers, headphones, and display.
PlayStation
Sony consoles have been keeping a decent part of the gaming devices market since 1994. The latest edition of their console – PlayStation5 – released in 2020 feels to be getting closer to its peak as a gaming platform in 2023. The dropdown of the semiconductor crisis and the time that has passed since the console's release makes it easier to purchase PS5 now than a couple of years ago.
According to Statista, there will be 108 million active users of PlayStation consoles in 2023. The data is gathered from PlayStation Network, which refers to PS4 and PS5 consoles.
Pros: 
Next-gen gaming is out of the box. PS5 is a powerful game platform in terms of hardware and environment. The PS5's GPU can provide gamers with all the latest graphics features like RTX, and its SSD technology provides fast loadings. And it is all available out of the box – plug in the console and log in or register your account.
Price and lifecycle. By buying the PS5 console in 2023 at a price cheaper than a graphics card for PC, gamers can guarantee at least 4 more years of stable gaming. Even PS4 users can still play most new titles, like Hogwarts Legacy or Elden Ring, with a decent framerate.
PS-only features. PS5 offers exclusive gaming features, like adaptive triggers and haptic feedback for a DualSense gamepad. Also, some hardware properties of this console, like the new SSD mentioned above, decrease the loading time, allowing developers to include special features in their games, like teleports in the Ratchet & Clank: Rift Apart.
Cons:
Price for games. The games in PS Store are the most expensive among all other platforms – the price is up to $70 for a game that is $30 on Steam. PlayStation started a PS Plus subscription, the second tier of which opens free access to the catalog of almost 400 games. However, the biggest titles are not included here, so players have to buy them separately. Also, at least the lowest tier of PS Plus subscription is required to play online games, even the free ones.
Hardware and UI issues. One of the most common complaints about the PlayStation gaming experience from the players comes regarding hardware issues. Some parts of the DualShock and DualSense gamepads tend to break with time, causing the need to replace them. Also, players complain about the temperature of the console and the noise it makes while processing some visuals. The other criticism for PS consoles is the UI of the market and the app, which some users need clarification and illogical. Another point of complaint is the battery for DualSense, which may need to be more for big gaming sessions and gets worse with time.
As of 2023, the official price for the PS5 console starts at $400 for the digital version and $500 for the BlueRay version. But the actual price is usually ~$100 more for each version.
Xbox Series X/S
Microsoft consoles have been keeping up with the best gaming platform competition since 2001. The current versions – Xbox Series X/S – are 4th generation of Microsoft consoles. As for the hardware capabilities, Xbox Series X is considered to be the most powerful gaming console at the moment. And Xbox Series S is a more budget-friendly version of Microsoft's console, which runs all the Xbox games from the catalog, but in a smaller resolution and with smaller HDD space available.
As of 2023, the gaming audience of Xbox consoles reaches 20mil users, according to the late 2022 sales data.
Pros:
Hardware power out of the box. Xbox Series X can be compared to some of the top-tier gaming PCs in terms of hardware. And all of it comes out of the box, without worrying about the hardware specs. Xbox Series S might not bring the best possible gaming experience, but it guarantees to run all the games for Xbox Series X at least at 30fps.
Xbox Game Pass subscription. Microsoft offered a new way of consuming games by releasing the Xbox Game Pass subscription for the previous generation of consoles in 2017. To this day, Game Pass is one of the world's biggest collections of games, available for $25 per year.
Cons:
Lack of exclusive content. Xbox is often criticized for the lack of exclusive games: most of the catalog is also available on PC. This makes Xbox unattractive for gamers who already own a gaming PC.
Fewer impressions from the next-gen. Some gamers need help to differentiate their experience playing Xbox Series X/S compared to the previous generation of Xbox consoles. Despite minor adjustments, players also complain that the Xbox gamepad has almost no difference in current and past generations of Xbox consoles. Also, the Xbox controller uses portable batteries, which some gamers find uncomfortable as chargeable batteries in other gamepads.
The price for Xbox consoles starts at $492 for Series X and $349 for Series S.
Nintendo Switch
From Game Boy Advance to 2DS XL, Nintendo has a long story of providing gamers with a portable game experience. Their latest edition is Nintendo Switch, released in 2017. Gamers worldwide appreciate this gaming platform for the mix of portability, unique controls and mechanics, and a game catalog full of exclusive titles and even some AAA games, like The Witcher 3: Wild Hunt or Doom.
As of March 2023, there are reportedly 114 million active Nintendo Switch users worldwide.
Pros:
Portability. Until last year, Nintendo Switch was the only relevant portable console. Its weight, construction, and battery life give players a decent gaming experience while being 100% portable for hours. You can take your Switch on a plane or on a tourist trip and still enjoy quality gaming time.
Unique mechanics. Joy-con and Pro Controller provide some special game-controlling features, which many players find attractive, especially in terms of using the gyroscope.
Exclusive titles. A decent part of the Nintendo Switch audience purchases this gaming platform mostly for being able to experience exclusive titles like Legend of Zelda or Super Mario Kart franchises.
Cons: 
Hardware limitations. Being a portable console causes Nintendo Switch some solid hardware limitations, like only 4GB RAM, a small HDD, or a weak CPU and GPU. Developers have to make games considering these limitations, which severely affects some gameplay aspects like graphics or loading time.
Games price. Being a monopolist allows Nintendo to put a high price on their games, even though they might not provide the best experience. People say, "That's the price you pay for playing in the bathroom."
The price for Nintendo Switch varies from $300 to $450, according to the region, console edition, and whether it is an OLED screen version.
Steam Deck
Gabe Newell couldn't let Nintendo monopolize the portable gaming consoles market, so the world was happy to experience SteamDeck – a Linux-based portable gaming console by Steam, released in 2022.
After a year on the market, SteamDeck tends to sell more than 3 million consoles worldwide.
Pros:
Portability. Just like Nintendo Switch, you can take your SteamDeck wherever you want. It's bigger than Switch or a gaming smartphone but smaller than a gaming laptop or a traditional console.
Versatility. The open-source nature and Linux-based OS make SteamDeck more than just a game console but a functioning portable PC. People use it for various purposes, from controlling drones to logging into smart house systems.
Unique control mechanics. SteamDeck's gyroscope and other controlling features give players a unique gaming experience.
Steam game catalog. SteamDeck can launch any game available on Steam, allowing access to the world's most extensive archive of games.
Cons:
Hardware limitations. Just like Nintendo Switch, portability brings SteamDeck severe hardware limitations. Only some games can show up to 30fps on SteamDeck. Also, the current SteamDeck battery only provides up to 2 hours of wireless gaming.
Optimization issues. SteamDeck should run every game on the Steam catalog, but the quality of the gaming experience lies on the game developer. Many companies optimize their games for SteamDeck, but most of the catalog still waits for the optimization.
The Steam Deck pricing starts at $399, and three different models are available for purchase.
Mobile devices
Mobile phones may seem like irrelevant gaming platforms for someone, but their market share, audience size, and presence of big titles like PUBG, Genshin Impact, Call of Duty, and Diablo prove this opinion wrong.
As of April 2023, two of the biggest mobile operation systems share the following gaming audience: 78% of gamers prefer Android, and 22% are iOS users.
According to Statista, the mobile gaming audience will increase to 2.3 billion individuals by 2027.
Pros:
Availability. A modern person could hardly live without a smartphone, meaning every one of us carries a powerful gaming device in our pockets daily. Gamers need only their smartphone to access a huge library of mobile games.
Versatility. For decades, the smartphone is more than just a ringing device; it's a fully-functioning computer in your pocket. Having a smartphone capable of launching games may profit you with many other activities.
Cons:
Hardware limitations. Smartphones are smaller than portable gaming consoles, and they have to be capable of doing much more functions, which makes their hardware limitations pretty severe. Except for special mobile versions of big titles like Fortnite or Call of Duty, you can hardly ever launch a AAA game on your smartphone.
A lot of paid mechanics. Mobile gaming is available for everyone owning a smartphone (which is most of our planet's population). This huge audience seduces game developers to add some uncomfortable game mechanics like unskippable ads, pay-to-win features, and tonnes of game cosmetics.
The price for a gaming smartphone starts at $300.
The Bottom Line
Considering the above, it all comes up to your game and the specifics of your audience. Good games can make great money and impressions if it's made properly.
We at Pingle Studio are lucky to live through various game platforms. Players can access games with any budget. Every modern platform, be it a PC, console, portable console, or mobile device, has a huge audience ready to contribute to a decent gaming product – choose the most fitting platform and enjoy.
If you see us as a company to bring your game to life – contact us and let's make something great together!