In today's rapidly expanding global game development industry, Great Britain stands out as a key player, renowned for its significant contributions and remarkable talent pool. With a rich heritage steeped in innovation and creative excellence, the nation has carved a prominent niche in the digital entertainment landscape. The number of video game users worldwide tends to reach 401.8 million individuals by 2027, and UK game development companies are likely to have a significant piece of this audience.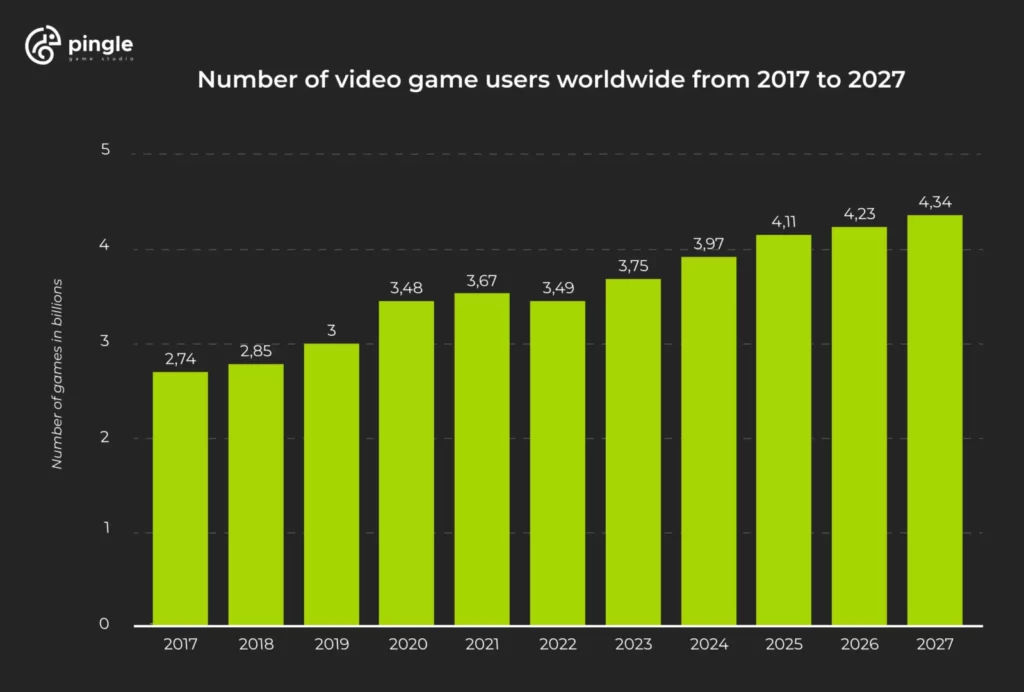 This article explores Great Britain's game studios' role in the game development industry. We will highlight notable British-developed titles that have captivated audiences worldwide, along with the country's strategic initiatives to attract and nurture game development talent. Join us as we uncover the factors that have positioned Great Britain at the forefront of the global gaming arena.
Top gaming companies in the UK
The UK has a long history of producing high-quality games, dating back to the industry's early days. The first companies started their activity as early as the middle of the 1980th.
According to statistics, as of January 2023, most UK game development companies – more than 700 – are located in London or at least have one of their offices in the capital. But still, many other countries are spread across the country, to the cities like Manchester, Brighton, Guildford, Slough, Cambridge, and many more.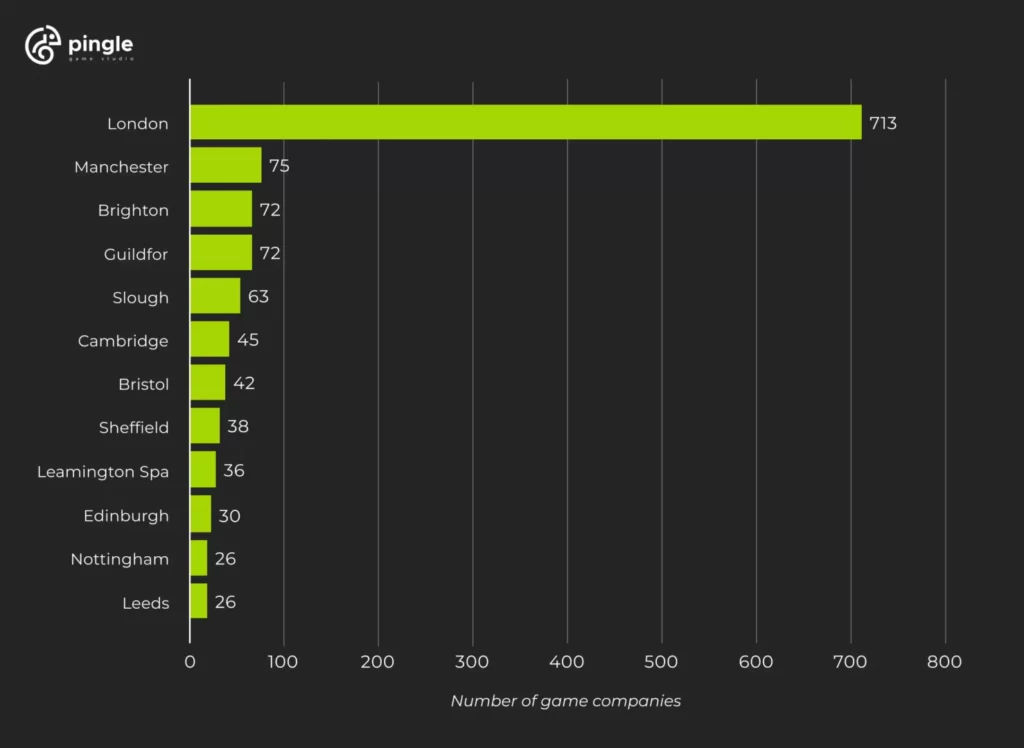 Let's take a look at some of the best gaming companies in the UK, as well as at some notable foreign companies with a significant presence in the UK companies.
Pingle Studio
Originally a Ukrainian company, Pingle Studio has gone global since the first months of its existence. Being in the industry since 200, Pingle has a track record of working with some of the top gaming companies in the UK. This list includes Team17, Jagex, Codemasters, and Skyhook Games.
Pingle's expertise is co-development, full-cycle game development, game porting, game testing, market certification assistance, and art & animation services.
Despite the war in Ukraine, Pingle Studio tends to grow: the employee count increased by 20% in 2022, making the headcount surpass 400 employees. Pingle Studio has a representative office in London, GB. Apart from that, Pingle has facilities in the US, Canada, Cyprus, and Ukraine.
Some of the biggest titles Pingle Studio works with are:
Codemasters
Codemasters is one of the critical agents in the UK gaming industry. The company was founded in 1986, which makes Codemasters one of the oldest UK game studios. Being now part of EA Games, Codemasters is located in Southam, England. According to their Wikipedia page, Codemasters had 700+ employees back in 2019.
Codemasters significantly developed FORMULA 1®, World Rally Championship, DiRT & GRID game franchises.
Sumo Digital
Sumo Digital is a Part of Sumo Group – one of the UK's largest providers of end-to-end creative development and co-development services to the video games and entertainment industries.
According to their Linkedin profile, Sumo Digital has a headcount of 900+ employees. Since the beginning of their activity in 2003, Sumo Digital has brought to life Hood: Outlaws & Legends, Sackboy franchise, Crackdown franchise, and Hitman 2. They also took a significant role in making Forza Horizon 4.
Sumo Digital has many facilities all across the UK and outside of it. Sheffield, Newcastle, Nottingham, Leamington Spa, Warrington, and Brighton are UK offices. Apart from the UK, Sumo has a presence in Bangalore, Wroclaw and multiple facilities in the Czech Republic.
Frontier Developments
This Cambridge company is a notable player among the UK video game companies. The company started business in 1994. According to their Linkedin profile, more than 500 employees are making games in Frontier Developments.
During its career, this Frontier Developments worked with Zoo Tycoon, Elite Dangerous, Jurassic World franchise, Warhammer Age of Sigmar franchise, and F1 Manager.
Creative Assembly
Creative Assembly is a British-Bulgarian game development company. Creative Assembly started its business as one of the first global British players in the industry in 1987. The current headcount is 850+ employees, according to Creative Assembly's Linkedin profile.
Creative Assembly is globally known for its expertise in the RTS genre. The biggest games in their portfolio are the TOTAL WAR franchise, including WARHAMMER III, Elysium, Three Kingdoms, Throne of Britania, and Halo Wars 2.
Creative Assembly's British facilities are located in Sussex and Newcastle. Apart from that, they have a Bulgarian office in Sofia.
Team17
Team17, an independent games label, developed and published games since 1990.
The company is well known and appreciated on the market for delivering titles like Worms franchise, Trepang franchise, Blasphemous, Golf With Your Friends, Marauders, Moving Out franchise, Overcooked franchise, GORD, Hell Let Loose, The Escapists, and The Survivalists franchises.
According to the open data, Team17 had 392 employees in 2022. Their development facilities are located in Wakefield, Nottingham, and Salford.
Rebellion Developments
Rebelion is an Oxford-based game development company that has operated since 1992. According to the UK's Global Database, Rebellion Developments employs 174 professionals.
Rebellion Developments is appreciated for the variety of genres of games they're capable of working with. Some of the biggest names in their portfolio are franchises like Sniper Elite, Evil Genius, Zombie Army, Rogue Trooper, and Moonbase Commander.
Playground Games
Compared to other UK game development companies, Playground Games is a relatively new company in the UK gaming industry. The company started its business in 2010. Located in Leamington Spa, England, Playground Games are known for working on Forza Horizon – one of the world's biggest racing game franchises. Gamers also look forward to Playground's new vision of the Fable franchise.
According to their Linkedin profile, Playground Games employs more than 400 professionals. Their development facility is located in Leamington Spa, England.
Media Molecule
Also, a relatively new company, Media Molecule, started making games in 2006. According to RocketReach, Media Molecule currently employs 157 professionals. They operate from London, UK.
Media Molecule is known for developing the Tearaway franchise and the Little Big Planet game series. They currently work on an experimental gaming product called Dreamiverse, where gamers can experience an extraordinary, ever-expanding game universe where they can discover community-made games from around the world and learn how to make their games inside this environment.
The Conclusion
In conclusion, the United Kingdom has emerged as a pivotal player in the global game development industry. With a rich history of creativity, innovation, and technological expertise, UK-based game development companies have significantly impacted the gaming landscape.
The UK's strong educational system, including renowned universities and specialized game development courses, has nurtured and produced exceptional talent. The emphasis on encouraging creative and technical skills has resulted in a workforce adept at developing games across various genres and platforms.
Moreover, the supportive government policies and tax incentives in the UK have contributed to the growth and success of the game development industry. These incentives encourage investment and stimulate the establishment of new studios, which, in turn, attracts international partnerships and collaborations.
We at Pingle Studio have a diverse experience working with the UK game development industry, and it has always been efficient and highly professional.